Impact Stories
Camron's Story: "Legacy Youth Zone is my second home"
When Camron first came to Legacy Youth Zone in Croydon he was having problems at his school with his behaviour. The Youth Zone has given him a positive and comfortable environment to grow and build his skills. Cameron describes the Youth Zone as his "second home" and credits it with bringing him out of his shell and boosting his confidence saying "I'm not in myself anymore".
Talking about his time at Legacy Youth Zone Camron said "I didn't know what to expect at the beginning and I felt a bit nervous, but by the end I was excited. I like the sensory room as it makes me feel relaxed, it's calming. We'd play games and I met a lot of friends in the sensory room. I've done lots of activities with Legacy, like sailing, BMX biking and go carting where I was the driver of the day and I got a medal! Thank you for everything."
The impact of the Youth Zone has been noticed by others including Youth Zone staff, school teachers and Camron's parents who have seen a complete turnaround. Commenting on the Youth Zone they said:
"We were worried before he came to Legacy, but no one ever made him feel uncomfortable because he's got autism. The staff are all there for young people. I remember speaking to one of the team and telling them about Camron, and they assured me that he would be in the best hands, and I believe that.
All the staff interact with him, they have patience and they have time to listen. He's made such a positive change in his attitude and behaviour that even his teachers at school have noticed. There's something here that makes children want to come. He wants to come everyday – it's brilliant, it's amazing."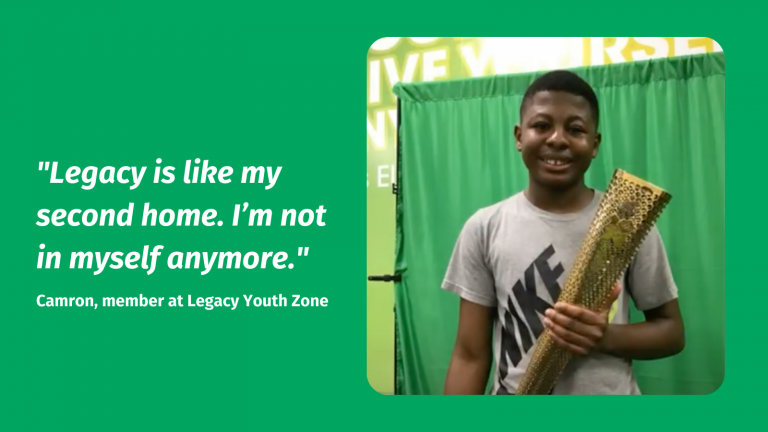 Want to help us to give more opportunities to young people?  Find out how you can support us!