Impact Stories
Supporter Spotlight – Catherine Ind, St. James's Place Charitable Foundation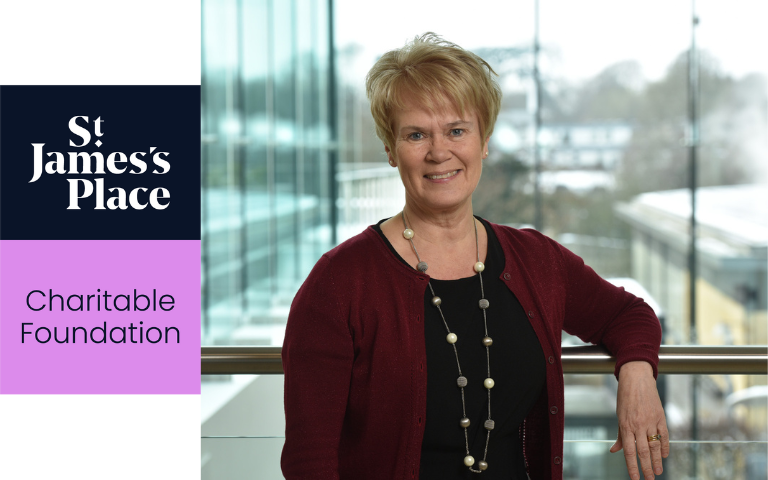 Catherine Ind is the Head of St. James's Place (SJP) Charitable Foundation. The Foundation is a longstanding supporter of OnSide, having generously donated to the capital costs for eight Youth Zones.  It has also provided vital emergency funding to ease food poverty this winter, a live issue across our Network, as well as investing in our response to covid lockdowns. Catherine shares her thoughts on the decade long relationship with OnSide, and why more facilities and support services for young people, like Youth Zones, are needed.
I've been to several of the Youth Zones over the years. They're a welcoming place for young people, with many opportunities to try new things. You can see the transformation in their lives. They join the Youth Zone, perhaps low in confidence, and they blossom, and their futures, as a result, are more favourable. It opens their horizons to what is possible. We've also held meetings at The Way, Wolverhampton Youth Zone, with some of the SJP community giving the chance for colleagues, like me, to be blown away by what is available to young people.
The other thing, without fail, are the youth workers – they are so incredibly passionate. You see the great repour they have with young people. Every time that connection happens, it's a standout moment; young people want to engage with the youth workers. They know the young people so well, so they can identify if there are more concerning matters developing, perhaps around mental health or safeguarding. They look after young people's broader welfare and interests ensuring issues don't go under the radar.
The first partnership between OnSide and the SJP Foundation was a project to support an inclusivity and disability programme over ten years ago. Having seen the impact of a Youth Zone in a community and its positive difference, we saw immediately that it would fit within the SJP Charitable Foundation's core funding themes, particularly supporting children and young people.
We then partnered with OnSide on new build projects, the first being Wolverhampton and Wirral, in association with The Queen's Trust. Once the SJP community got to see the Youth Zones, they were inspired by them, as was the Foundation. We continued to invest in more builds, and now we've reached eight. It's a simple decision when you can see something that works and makes a positive difference in a time of real need for services for young people.
We want to focus on charities that have a significant impact. We've developed a strong partnership with OnSide in terms of its expansion of the facilities and creating substantive and transformational change. On top of that, we're making a difference in response to the specific needs due to exceptional circumstances.
When Covid hit, we created a special fund to support our funded charities including the OnSide Network. We spoke with OnSide throughout that period and knew that the existing challenges were exacerbated by Covid, creating an even greater need in Youth Zones. Then when the cost-of-living hit, we had an even bigger community cohort that needed support , so . we wanted to help when the crisis emerged.
I always describe OnSide's Youth Zones as purposeful. They're not just somewhere to go; they're about skills development and the fact that you can learn to cook a hot meal or have help with your CV. Young people may not be getting that guidance elsewhere for whatever reason, so it's about building those life skills that will help them become independent.
Young people have more pressure on them today than ever before. Social media makes everything public, which creates pressure and expectations. You can see your friend doing something, and you feel left out. Because everything's online, you can sit in your bedroom, so young people aren't developing people skills. They can chat face-to-face with their peers at a youth centre. They also learn how to manage behaviours and interact with others. It's a valuable skill set to learn how to read a room. When they go into the workplace, they need to be able to read a situation and manage different people who may not be or think just like them.
I wish I'd had a Youth Zone to go to when I was younger. The Youth Centres in my day were just literally a place to go. Having visited Youth Zones, I think every town should have one. Youth services have been reduced over the years because of funding, so there must be more facilities and support services for young people.
I think OnSide is building the body of evidence of the difference a Youth Zone makes, which then generates support to grow in areas where it doesn't exist. I know the model is based on local authority buy-in, and as that continues to gather momentum, it will hopefully influence policy at a high level. Youth Zones' impact will change minds and, perhaps, what services will be available to young people in the future.
For anyone thinking of supporting OnSide, it comes down to impact. It is about investing in something that's making a real difference at a community level. The OnSide model is changing lives and creating better futures for young people. For anyone looking to support, by getting involved, you can be part of something that's truly making a difference.