Impact Stories
Katie's story: "The Youth Zone's introduced me to a lot of new things."
Meet Katie, a 17-year-old member at Future, Barking & Dagenham's Youth Zone. Here is Katie's story of how she's grown her confidence, made new friends and built positive relationships with youth workers.
Katie's story
"Before I came to Future I spent a lot of time at home, I was quiet and I didn't really socialise much. I've always loved music, so I spent a lot of time doing that, and gaming. I started coming to Future as soon as it opened.
I knew I wanted to make friends, and the music room became my favourite place. I love Future Fridays, it's all good vibes – especially singing with Clinton! Since then I've got to know the youth workers really well and made lots of new friends.
Lockdown was really hard for me. Being stuck in my house again was my worst nightmare. I started gaining weight, I was really unhappy and found myself crying most days. The Zoom sessions and check in calls from Future really made my day being able to talk to a youth worker. I've grown my music at Future, and it's really helped me gain confidence – I've performed at 100 Becontree Festival and with Barking Abbey.
Future's introduced me to a lot of new things like football, rock climbing and arts – before I was just interested in music. Youth workers are really good for your mental health – someone to talk to who you know won't judge you, they're always there to help.
If you build a relationship with a youth worker you can trust, you know they are there for you. Before starting Future I had no clue where I would end up.
I always loved music but I didn't know what I wanted to do with it. Now I know I want to be a youth worker and get other people into music. If I could, I would work here and do what Clinton does.
Future means a lot to me – it's made me realise what's really important. One of my highlights is being an ambassador for OnSide. Future has done a lot for me and being an ambassador makes me feel like I'm representing them – I want to do a lot for them too"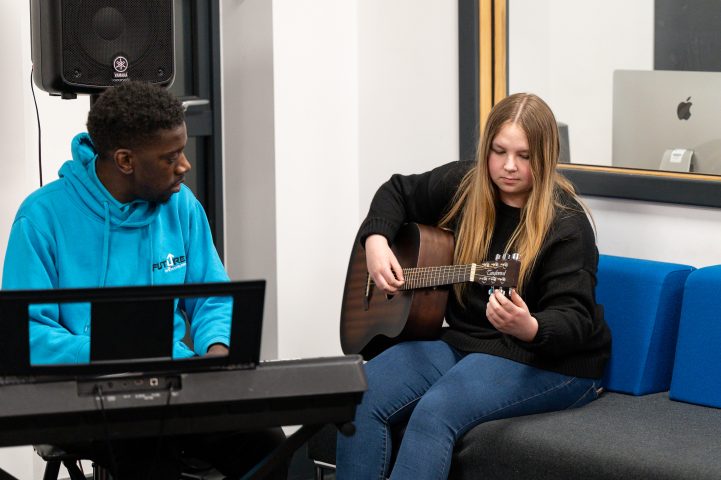 Want to help us to give more opportunities to young people?  Find out how you can support us!