Impact Stories
Supporter Spotlight – Katie Pinnock, GSK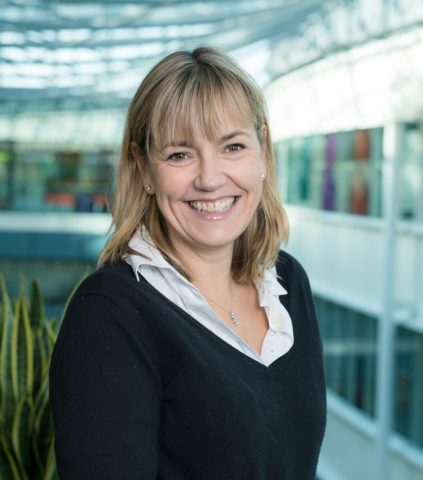 The first Youth Zone I visited was Unitas in Barnet, north London. It's a hugely impressive and modern building, and the standard is so high. I was shown around by the members, and they were so proud of their Youth Zone. I remember being really impressed by the amount of equipment in the music room.
One member showed me the climbing wall and shared they'd heard children at school talk about climbing, but they'd never been able to try it until they came to Unitas. You don't think about how many things are excluded because they're expensive. It's so hard for kids to feel left out after hearing a group talk about an activity they've tried.
I first heard about OnSide's work of developing Youth Zones back in 2018. GSK's headquarter is in West London, so we were particularly interested in the Hammersmith and Fulham Youth Zone. I've been in this role for a long time, during which I've worked with some excellent partners and have read lots of applications. There was something different about OnSide, particularly how they work with young people. We report to a committee of senior leaders at GSK, and the decision was a no-brainer. Being a Founder Patron was so important to us as we would be supporting something for the local community.
Once the Youth Zone opens, we'll also be able to give our staff opportunities to volunteer right on our doorstep. As an employer, we're able to look at the employees of the future. We know there will be groups of young people who are unaware of the opportunities open to them. We want to show what we do and that you don't have to be a scientist to work at GSK, it is somewhere that's attainable for them.
When attending my first OnSide event I had the chance to meet young people who were involved in the project. What struck me was how passionately they spoke and their dedication to developing the Youth Zone for the next generation, knowing they may be too old to benefit from it by the time it opens. It really meant a lot to them that this was coming to their community. It's great that young people are involved in its development. Their voice is important, and their input is valued. It's not just paying lip service, it really is a part of the development.
At GSK, we support several partners across the UK, looking at programmes that fit our criteria of having a strong focus on health and wellbeing. There's a big number of young people impacted by mental health. This has been brought to the fore, but it's also worrying that it's on the increase, and pressures on young people have increased dramatically over the last five years. Social media has certainly contributed to this, creating the ridiculous notion that they need to live up to an ideal lifestyle.
The pandemic has also been an especially difficult time for teens on the cusp of adulthood. They're trying to understand themselves and expand their friendship groups. If you add to this the reality of having a difficult home life, it's been really tough on them. We have a ticking time bomb on our hands that places like Youth Zones can help to ease by ensuring young people are supported. There's a huge gap in what's provided for young people, this is something that society needs to address.
It's difficult being a young person today. At one of OnSide's events I spoke to a group of girls who wanted to visit a shopping centre, but they were made to feel so unwelcome because they were young and in a group. No one should feel like something isn't for them, that they aren't bright enough, or that they aren't going to achieve. A lot of young people are bright and ambitious, they're just overlooked. OnSide's Youth Zones are places for them to go, where they're supported to participate in activities, do their homework, or talk to someone if they need to. It's about giving opportunities, what you do with that is up to you.
My hope for those young people who have been driving work with WEST Youth Zone is that they have a huge sense of achievement and that the community feels immense pride, it's quite an accolade to have a Youth Zone and one at that high standard. I hope the Youth Zone will give them a sense of wellbeing. Coming in they need to feel like they can relax, be themselves and achieve what they want. You have a choice to go to a Youth Zone, it will be a success because of the amazing young people who choose to participate. It's about letting people be responsible for themselves, rather than labelling or putting them in a box, Youth Zones look at the person as a whole.
We're proud of our partnership and being Founder Patrons. For anyone thinking of supporting or getting involved with OnSide, I would first say go and see and spend some time at a Youth Zone. Talk to young people and the team, and you'll soon see the value for them and the community.