A GIANT spade has helped mark the start of construction work on Chorley's new Youth Zone – 'Inspire' today as it takes a significant step closer to opening.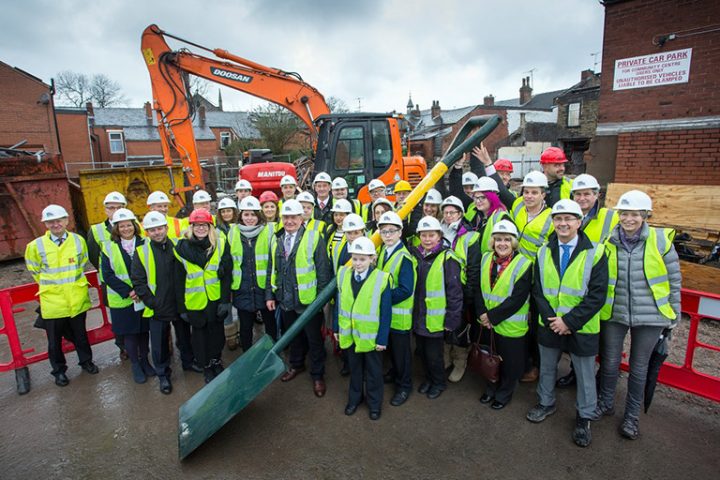 The £4.8m facility is scheduled to be completed by spring 2018 with contractor HHSmith & Sons now underway with construction.
The new Youth Zone is to be built on Railway Street, in the centre of Chorley and will be a place where all of Chorley's young people can reach their full potential, grow their dreams and achieve their goals. It will be a safe and supportive community for young people to belong and be themselves.
'Inspire' will offer a wide range of activities for young people aged between eight and 19, up to 25 for those with a disability, including; dance, sport, music, media, employability and mentoring. Inspire will cost young people just 50p per visit.
The young people of Chorley have played a significant part in the early developments of their Youth Zone, having already worked together to create the brand 'Inspire' and with construction work beginning the opportunity to have somewhere to go, something to do and someone to talk to is set to become a reality.
Chairman of Inspire Andrew Turner commented: "Chorley's new Youth Zone, Inspire, will give all young people of Chorley somewhere to go, something to do and someone to talk to. As with any OnSide Youth Zone, the project will rapidly take shape and this occasion marked the start of what will be a fantastic project for the town. We are all hugely excited to celebrate this key milestone and we hope local businesses support this hugely worthwhile project."
The Leader of Chorley Council, Cllr Alistair Bradley said: "Inspire will offer a safe and inclusive environment for Chorley's young people in an exciting, purpose-built facility. Providing services that improve young people's lives and divert them away from getting into trouble in their local communities is our priority. Inspire will give young people the chance to try new sports, dance and arts, and support them to gain new skills and find employment."
The Youth Zone is being backed by Chorley Council, Lancashire County Council, whilst The Queen's Trust have recently donated £500k, totalling £1m. Wigan Youth Zone's Chairman Martin Ainscough has also donated £1m of capital funding support to the town's young people.
Founder Patron support has been pledged by The Chorley Group with a number of other local businesses set to be announced. Becoming a Founder Patron of Inspire Youth Zone is a chance for the local businesses and philanthropists to create a legacy for the future of Chorley. Their support and endorsement of the project will serve to encourage others to invest in the future of the town's young people.
For more information about how to get involved please contact Chief Executive, Janine Blythe on 01204 362128 or email CE.InspireYZ@onsideyouthzones.org.
Chorley Youth Zone is an independent charity which will operate to our successful OnSide Youth Zones model. The Youth Zone will cost approximately £4.8million to build and £650k to run annually. The project is being run in partnership with Chorley Council, Lancashire County Council, The Arts Partnership and OnSide Youth Zones.
Visit www.inspireyouthzone.org for more information on the project.