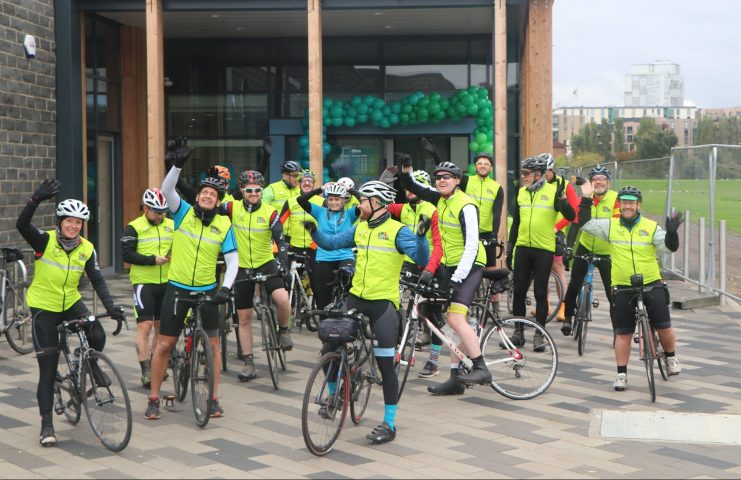 A team of 19 cyclists made the mammoth journey from Carlisle to Croydon to raise a whopping £50,000 for the OnSide Youth Zone network.
The intrepid group took five days to ride from OnSide's most northerly Youth Zone in Cumbria to the most southern in South London – a grand total of 471 miles, calling at every Youth Zone in between, including the building site of HideOut in East Manchester!
Another fitting touch is that Carlisle Youth Zone was the first one to be built by OnSide, following the inspiration of Bolton Lads & Girls Club, and Legacy Youth Zone was the most recent to open in June.
Each raising money for their chosen Youth Zone or OnSide, the group had one goal: to help enrich the lives of thousands of young people. As well as those who cycled the whole journey, there were also a number of fundraisers who joined them for different stretches.
It was a week filled with teamwork, friendship (both old and new), laughter and the occasional tear; one that none of those taking part will never forget.
Setting off on Monday 21stOctober, the cyclists left Carlisle and made the 101-mile journey to Blackburn Youth Zone via the infamous Shap Hill as the sun shone down on them.
Day Two saw the group travel 76 miles, visiting no less than five Youth Zones – Chorley, Wigan, Bolton, Oldham and Manchester – before calling in at the East Manchester site.
Everywhere they went they were greeted by an army of young people from each of the Youth Zones – as well as coffees, water and a bottomless pit of much-appreciated snacks to refuel.
After an overnight stay in Altrincham, the group then set off for Warrington where they met Youth Club staff at the site of their new Youth Zone. They then headed west to the Hive in Birkenhead before cycling back down the Wirral peninsula to their overnight stay in Telford after a day which saw them cycle 103 miles.
Day four was arguably the toughest of the lot. After calling in at The Way Youth Zone in Wolverhampton, our incredible bunch headed south for their overnight stay in Buckingham. It was a day where they pedalled for 100 miles while climbing no less than 4,347 feet.
As day broke for the final 93-mile leg, the group was greeted by brilliant sunrise which spurred them on to the finish line.
The first port of call was Unitas Youth Zone in Barnet before Future in Barking and Dagenham with a raucous reception waiting for the riders at both.
Tired and emotional the group then descended on Legacy in Croydon where they were greeted with an incredible party held by the Youth Zone's members.
Tens of thousands raised for young people, 471 miles cycled and over 18,500 feet climbed; it was an amazing achievement for every single cyclist.
Taking up the story from his own personal experience is OnSide supporter Nick Hopkinson MBE DL.
He said: "Cycling nearly 500 miles… up hills and down dales… in all kinds of autumn weather is a tough challenge, especially when you are nearly 70 years old, or when you are not a regular cyclist…. or indeed even if you're a fit regular who loves the sport….we had all of these in our little group.

"What we have to remember is that no matter how hard, how uncomfortable or how tired we were…there are young people who have to go through much greater difficulties every day of their lives.

"We started as a collection of keen fundraisers with a common cause and goal. We finished as a tight-knit team of engaged and committed enthusiasts for all things OnSide, with tired legs and sore bums.

"Seeing the enormity of what is now happening in the Youth Zones was awesome. Witnessing the many thousands of young people who voluntarily visit the clubs every day and the corresponding reduction in anti-social behaviour is just breath-taking. We were amazed and humbled.

"It was an emotional week, we all faced down our own fears and demons and we were all changed in some way by our experience. It was a privilege to cycle with this group and it was a week I will remember forever. The money raised will change many lives, it may save some lives…. and it certainly enriched mine."
The Tour de Youth Zone 19:
Julie Hetherington
Tony Brierley
Dan Calland
Craig Gorton
Andrew Nichols
Brandon Pilling
Nick Hopkinson MBE DL
Mark Brocklehurst
Neil Tatterstall
Andy Roberts
Vincent Fairclough
Gavin Evans
Barnabas Shelbourne
Greg Farrimond
Adam Poyner
Andrew Malloy
Catherine Bryan
Steve Turnock
Harry Gray
The crew:
Dave McNichol
Nigel Brindley
Simon D
Simon G