Volunteers play a key role at The Hive Wirral Youth Zone – we really couldn't function without them. They bring valuable skills, as well as having a fresh and different view of our work, opening our eyes to new opportunities and ways of doing things. The variety they bring with their lifestyles, personalities, life experiences, hobbies and thought processes makes The Hive a more diverse place, and our Youth Zone is richer for it.
I find that people volunteer with us for many different reasons. Some have a background in working with young people, some want to join to be part of a community, and many want to be the role models they didn't have when they were younger and growing up in Wirral. They want to raise the aspirations of young people and show them that whatever they want to achieve is within their reach. We're lucky to have fantastic volunteers, so I thought I'd share five tips to build a strong volunteer base.
How to build a strong volunteer base
Get familiar with the volunteer's experience
To best support volunteers, I think it's essential to understand the experience of volunteering. This is particularly true when volunteering at a Youth Zone where you essentially hit the ground running from day one. I found it helpful that I started my journey with The Hive as a volunteer when studying at university as I know what it's like. I have done a few different roles since being here, but my current role is People Support Officer. I see my role as one of trying to anticipate the questions and support our volunteers need, making the experience easier. It's a balance of stewarding them through the process whilst giving them space to stand out and shape their experience.
Provide support and training
We're committed to safeguarding our members and supporting our volunteers. When a new volunteer signs up, they go through a DBS check and are given full training. Because of the type of work we do, occasionally some sensitive situations may come up, so it's important that they always feel supported. I regularly check in with my volunteers, and the wider team are also on hand whenever. On each session there will be session support who will be available should the volunteer need it.
Get to know your volunteers
I like to build relationships with the volunteers, to get to know them and find out about their experiences and interests. You also never know what this can lead to and the opportunities it can create. I was speaking to a volunteer recently who enjoys playing netball, we've been wanting to add netball to our sports offer for a long time and now she's working with our Sports Coordinator to develop that programme.
Make them feel part of the team
At The Hive we have an environment where our volunteers feel like a part of the team, because that's what we are – one team working towards the same goal of giving young people the best opportunities. I think volunteer team building is also important. Once volunteers were able to get back into the building after lockdown, we held an event to welcome them back into the building. We also host coffee mornings, and I am in the process of creating some volunteer bonding sessions.
Recognise and celebrate their contributions
I never miss an opportunity to tell our volunteers how amazing they are! I include a volunteer spotlight in our monthly newsletters profiling something brilliant they've done. It's always a struggle to pick just one person to celebrate and I usually end up shouting out a few! A simple thank you for the little or big things they've done on session goes such a long way too – it helps them see the impact they've had and difference they're making. We also have an annual volunteer of the year award, this year's winner Shaz won by a unanimous vote for just being an incredible, kind and generous human being. She is always up for a killer pool competition, helps build staff moral by allowing them to beat her at table tennis, sang her heart out while supporting Junior Council do the 'hike around The Hive' and is an inspiration to every single one of us. I felt so proud to present her with her award.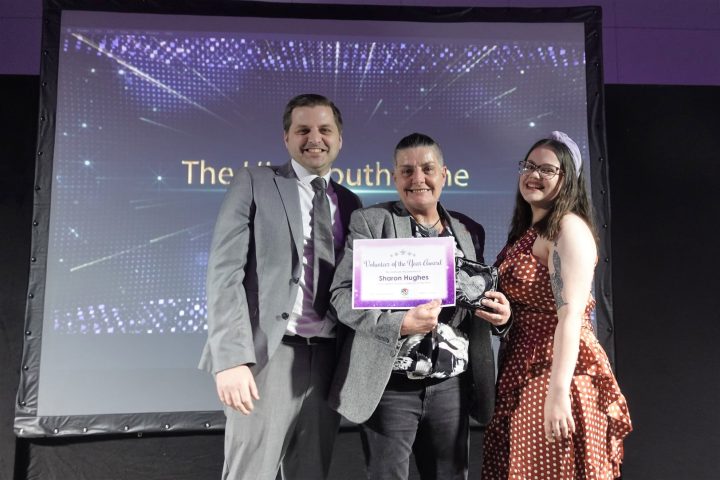 Our volunteers mean everything to The Hive, I am extremely grateful to be able to work alongside them and can experience their brilliance; they're all incredible human begins. If I had to sum up what it's like to work with our volunteers in two words, I'd say lucky and humbled.