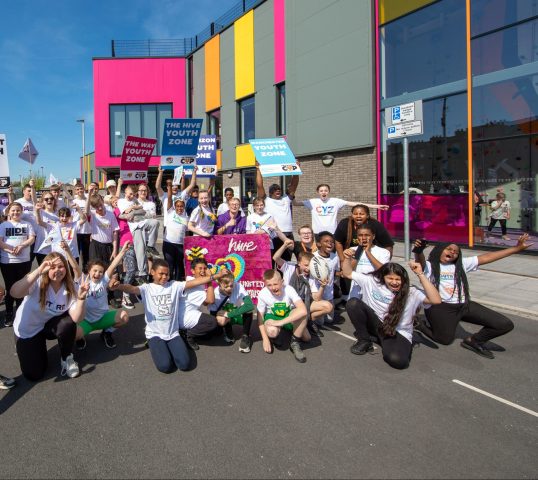 Over 400 young people descended on Warrington Youth Zone on Saturday 13th May for the annual OnSide President's Cup for a day of fun, colour, noise and friendship.
All 14 Youth Zones were represented while young people also joined from Grimsby, Hammersmith and Fulham, Bristol and Leeds.
Activities and challenges ranged from football to climbing, enterprise to cooking, art to rugby and dance to the gym. the event was a great opportunity for Youth Zones to showcase some of the brilliant work they've been doing through the Network-wide Arts and Enterprise programme that's supported by the Burberry Foundation.
While it was Wigan Youth Zone who took home the trophy, every young person who took part were winners with new friendships made and old one.
Omar, 10, from Legacy Youth Zone in Croydon, said: "It was a very good day and lots of fun. I've done lots of things like karaoke, the gym challenge and I've participated in everything. It's lovely here and I've met so many people."

Kaitlyn, 15, from Warrington Youth Zone, said: "It's been an absolutely amazing day. We've had loads of other Youth Zones over (to Warrington Youth Zone) and they've all been so kind. They've all been so competitive but really nice and kind at the same time, it's been really, really good. We've done climbing, rugby, football, all sorts along with some painting and lots of other things. It's been the bets day ever!"
The President's Cup is an annual competition which aims to bring young people together from right across the OnSide network. With the host venue changing every year, it also gives young people the opportunity to visit other Youth Zones on top of meeting other young people.
Warrington Youth Zone Head of Youth Work Tom Jowett said: "What a day hosting the OnSide Presidents Cup 2023 was with over 400 young people from around the country descending on Warrington Youth Zone to celebrate the amazing youth work we provide up and down the country.

"A day full of laughter, smiles and more importantly, friendship. Sports, The Arts, Recreation and great Youth Workers allowed young people to celebrate together in a way only a Youth Zone could provide.

"I am proud to be part of a network of people with only one aim at heart – putting young people first."

OnSide CEO Jamie Masraff added: "The President's Cup is always such an amazing, colourful event. This year was no different on that front but it was our biggest yet and I'd like to say a huge thank you to all who made this happen, including our incredible hosts Warrington Youth Zone.

"It was so inspiring seeing young people getting stuck in to all the challenges and activities, often trying things for the first time, with huge smiles on their faces. The real joy, though, was seeing young people from 18 different towns, cities and communities across the country coming together as one to make new friends and enjoy such a special day together. A really proud day for OnSide and our brilliant network."