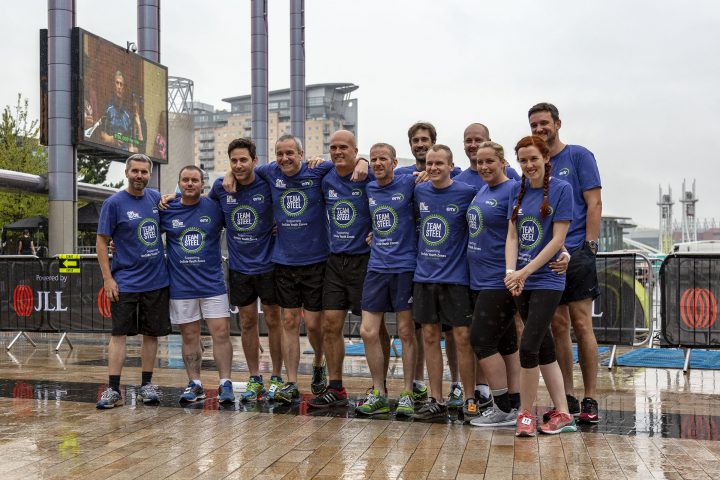 A team of employees from leading metal recycler, EMR, has raised over £30,000 for OnSide Youth Zones, a charity that supports young people across the country.
On Friday 13 July, 12 brave EMR employees from across the business, completed MediaCityUK's Urban Challenge.
The 6K event, developed by ex-SAS celebrity TV trainer Rob Edmond, featured 25 challenges including a ninja wall, a rope swing into water, cargo net climbs before a giant water slide which catapults participants into dock 9 of Salford Quays.
Over £15,000 was raised through sponsorship alone by EMR's 'Team Steel' which was match-funded by the company to raise almost £31,000.
OnSide Youth Zones provide tens of thousands of young people aged between 8 to 19-years-old (up to 25 for those with a disability) with safe and inspiring places to socialise and establish healthy relationships. They are open day-in-day-out, offering over 20 activities per session and access to targeted support across ten state-of-the art youth centres across the country, in locations including Warrington, Manchester, Croydon and Carlisle.
Andrew Brady, EMR UK COO said: "At EMR we put a great deal of importance on supporting the communities that are close to our sites.
"We wanted to help raise money for OnSide Youth Zones to support the incredible work they do on a daily basis and it's great to know that the money raised will make a real difference to the lives of young people across the country.
"We are extremely proud of the team's fundraising efforts and we would like to thank everyone for the generous sponsorship Team Steel has received."
Francine Healey, Head of Private Sector Development, added: "We're delighted with the amount raised by EMR and can't thank them enough.
"Our diversified funding model is based on philanthropic community partnerships which combines contributions from local authorities, business, charitable funds and operating revenue generated by the facilities themselves to create high-quality, sustainable universal youth services.
"Generous funding from organisations such as EMR means that tens of thousands of young people across the country are given safe and inspiring places to spend their leisure time, with access to employability, health and sporting initiatives which make a huge contribution to their emotional and physical wellbeing."
If you would like to contribute to the EMR team's total, you can do so here.