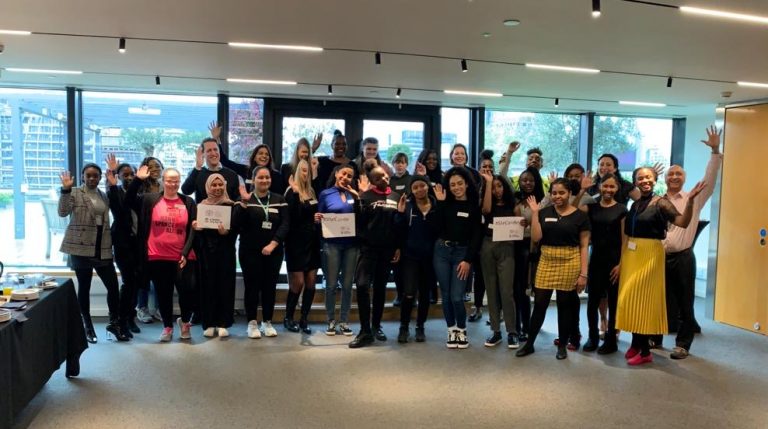 Dozens of young and ambitious women from across the OnSide network had the opportunity to take part in 'She Can Be' an impressive event organised by the Lord Mayor's Appeal.
Members from Future, Unitas and Legacy Youth Zones in London visited five different City businesses.
The day began with the eager and motivated OnSide groups visiting a range of companies located within the City including Rabobank, Gulf International, Artemis, Rathbones, and Quitler Cheviot.
During their visit the young women were engaged in activities that encouraged the use of problem solving skills within a real life setting and participated in conversations with inspirational women as well as male allies about varying topics such as their perception of the City and breaking down barriers.
OnSide is one of three of the Lord Mayor's Appeal's charity partners and we are delighted that so many of our young women were able to benefit and be inspired during an action-packed day.
The Lord Mayor's Appeal first held the now annual event in 2017 to combat stigma surrounding barriers preventing young women from working in the City as well as to challenge those which exist.  64% of young women believe that employers prefer to hire men over women, a statistic that 'She Can Be' is making major strides to break down.
Later in the afternoon all of our groups, along with many other young women, gathered to partake in interactive exercises and hear a range of panelists and speakers touch on topics such as overcoming unexpected failures.
'She Can Be' boosted our young women's confidence, empowering them to make informed decisions about their future careers and highlighting their vast potential to thrive within a role in the City.
 Anisa Gani, 17, from Unitas Youth Zone summed up her day by saying "We went to Rabobank in the morning and learned about the ins and outs of the banking industry which was really interesting before travelling to East Wintergarden in Canary Wharf where we heard inspirational talks from inspirational ladies. It was great to meet so many other young women and learn about what roles are available in the City."
We are looking forward to the next 'She Can Be' and to behold the long lasting impacts it will have on the young women of tomorrow.